Order our services!
Did you know that?
Clothing accounts for 10% of consumers' total environmental impact. In Scandinavia, each person throws 8 kg of textiles in the garbage yearly.
The most ecologically efficient way to dispose textile is to reuse it! One kilo of reused clothes saves the environment 5 kg of CO2.
Be part of our mission!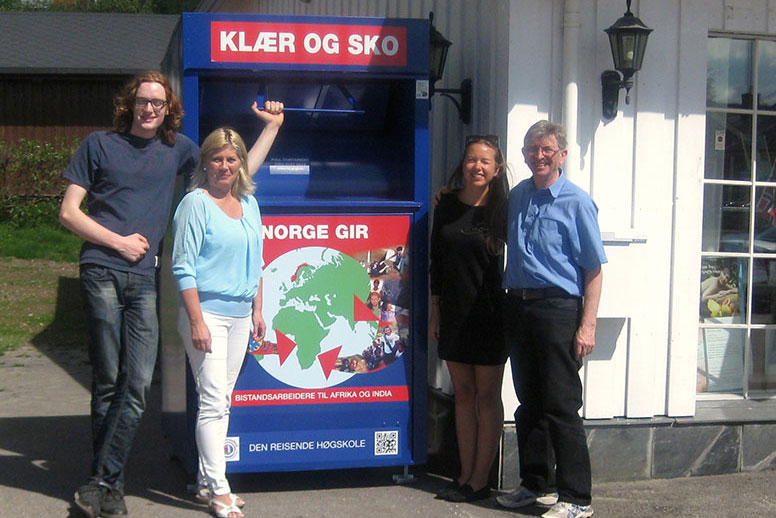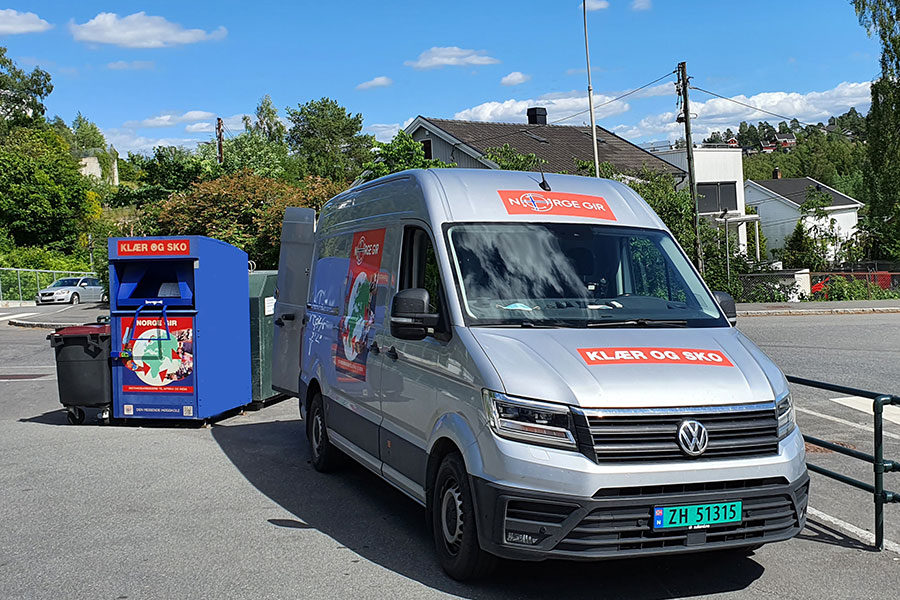 Become a Container Host
We offer our collection services with Norge Gir Tekstiltårn to help give your donated clothes a new life and save them from ending up in the residual waste.
By hosting one or more of our textile towers, you can help us fight climate change and social injustice, while helping to raise awareness in the local area.
We offer :
Norge Gir is responsible for emptying the textile towers 1-2 times per week or as needed. This also applies to weekends and public holidays.
Norge Gir ensures that the area around our textile towers is kept clean and tidy.
Norge Gir provides maintainer textile tower and removes any posters and graffiti.
Contact information can be found on the textile towers. You / the customers can call Norge Gir, if there are any discrepancies with regard to the clothing collection. We usually resolve discrepancies within 24 hours.
On the front of the textile towers, users can see the clothing's path from donor to new user.
The agreement is absolutely free.
You can receive analitics of the quantity, semi-annually.
The agreement can be terminated by 1 month notice.
Product data for the Textile Tower
Norge Gir provided textile tower: Dimensions 115x 115 x 220 cm. Weight 160 kg. Color: blue. (Ultramarine)
The container has a bottom dimension of only 1.3 m2, and takes up little space
The container is affixed to streamers on the front and side pieces with name and contact information.
Workflow
Most of the clothes we get in the textile towers are in good condition and carefully packed in plastic bags, so that it is clean and dry. Any loose clothing is packed in plastic bags by our drivers. The clothes are packed unsorted in storage containers / trailers. Only waste is removed before packing. The trailers are currently exported to Humana's sorting center in Lithuania or to buyers in Poland. The clothes are sorted into many different categories, according to quality, type and season. Depending on the category, the clothes are resold for reuse in the east or south, where they are used as they are, as clothes for people. The result of recycling in this way is, among other things, that we achieve a very high utilization of the clothes and thus a very low waste and environmental impact. Every kilo of recycled clothes saves the environment 5 kilos of CO2.
If you have special plans, we are solution-oriented. Looking forward to hearing from you!
Pick-up service – door to door
The pandemic brought new challenges in everyone's life.
Norge Gir understands that some of us would like to avoid busy places or simply it is harder to find free time to deliver clothes to the collecting containers.
To take-off weight from people 's shoulder, we developed our Pick-Up Service. We are providing for borettslag, stores, schools and kindergartens and companies, a contact free service.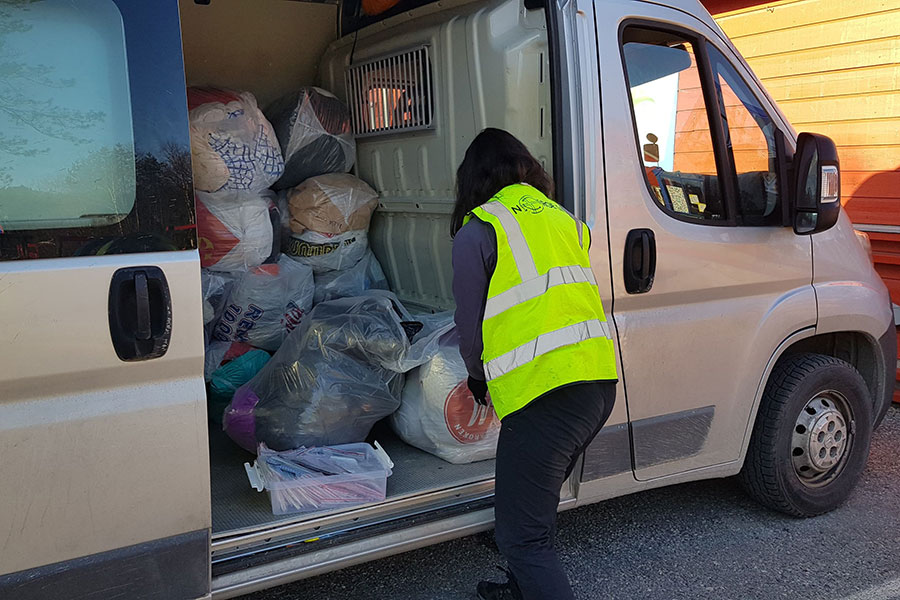 It is an easy, green and safe solution for everyone. After consulting with the leaders of the institutions, we place posters and announce on Social Media platforms the next pick-up event.
In addition to being environmentally conscious, this is a good reputation and a great example for your organization and your children.
Some of the organisations that already made a step towards an easier clothes donation:
Kidsa: Ovre, Breisten, Inndalen
Polan & Pyret Lagunen
In addition to borettslags like Løvåsen , Nordås, Vestlund, Ovstunn, Kleivhaugen in Bergen and Mariåsen Borettslag in Arendal.
Our pick-up can be organized as a monthly or seasonal service, or occasionally right after your wardrobe cleaning. If you have a residential community with the need and consciousness about environment, just call us or write to e-mail address, four weeks in advance!
The closer to the wardrobe – the easier, safer and greener!
Environmental presentation
Educational Presentation about the Environmental Impact of the Textile Industry, offline or online.
Norge Gir believes that without education and spreading awareness we can not achieve a change for a sustainable future.It is important to inform the young generations, since one day they will be the future leaders.
Norge Gir offers an interactive educational presentation for children and teenagers, focusing on the mentality Refuse- Reduce- Reuse- Repair- Recycle and pointing out solutions that we can do individually and collectively.
Collaboration with the Science Center VilVite
We also offer environmental and development education workshops. In collaboration with VilVite.
We can give lectures and activities, interactive presentation about the environment; we are talking about recycling, climate change and constructive protection measures for the earth and the life it supports.